---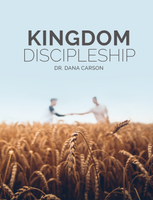 God called you and created you with a purpose in mind, never to change. He also created you to operate with power and authority. This book will examine the call of the believer from the Older Testament to the Newer Testament and provide you a practical outlook of what it looks like to do Kingdom ministry.
• You will learn the dynamics of what it means to be called and the purpose of God's call. You will understand the relationship between God's call and His sovereignty, and the differences between being called, chosen, and elected.
• You will learn what Kingdom ministry looked like through the surveying of four leaders in the Older Testament – Moses, Joshua, Gideon, and David. While each leader was unique and distinct, there were certain leadership principles that they all had in common in order to execute Kingdom ministry.
• You will learn how the apostles modeled Kingdom ministry in the book of Acts, how to activate the power of the Kingdom in your own life, and much more!